Capital News Review of Sonia's Nail Studio
Full text reproduction below image for easier reading.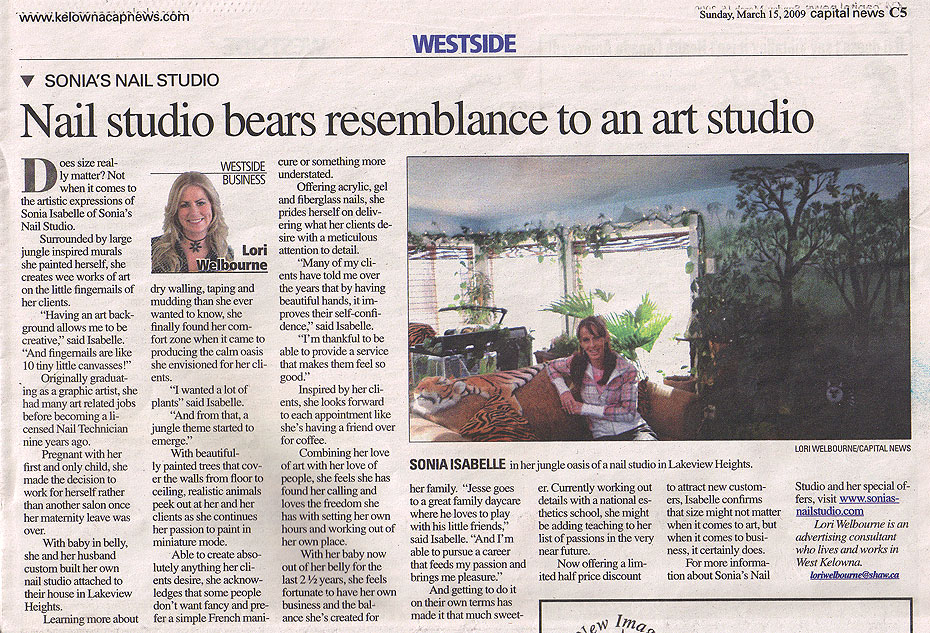 Does size really matter? Not when it comes to the artistic expressions of Sonia Isabelle of Sonia's Nail Studio.
Surrounded by large jungle inspired murals she painted herself, she creates wee works of art on the little fingernails of her clients.
"Having an art background allows me to be creative," said Isabelle. "And fingernails are like 10 tiny little canvasses!"
Originally graduating as a graphic artist, she had many art related jobs before becoming a licensed Nail Technician nine years ago.
Pregnant with her first and only child, she made the decision to work for herself rather than another salon once her maternity leave was over. With baby in belly, she and her husband custom built her own nail studio attached to their house in Lakeview Heights.
Learning more about dry walling, taping and mudding than she ever wanted to know, she finally found her comfort zone when it came to producing the calm oasis she envisioned for her clients.
"I wanted a lot of plants" said Isabelle. "And from that, a jungle theme started to emerge."
With beautifully painted trees that cover the walls from floor to ceiling, lovely life-sized animals peek out at her and her clients as she continues her passion to paint in miniature mode.
Able to create absolutely anything her clients desire, she acknowledges that some people don't want fancy and prefer a simple French manicure or something more understated. Offering acrylic, gel and fiberglass nails, she prides herself on delivering what her clients desire with a meticulous attention to detail.
"Many of my clients have told me over the years that by having beautiful hands, it improves their self-confidence," said Isabelle. "I'm thankful to be able to provide a service that makes them feel so good."
Inspired by her clients, she looks forward to each appointment like she's having a friend over for coffee.
Combining her love of art with her love of people, she feels she has found her calling and loves the freedom she has with setting her own hours and working out of her own place.
With her baby now out of her belly for the last 2 ½ years, she feels fortunate to have her own business and the balance she's created for her family.
"Jesse goes to a great family daycare where he loves to play with his little friends," said Isabelle. "And I'm able to pursue a career that feeds my passion and brings me pleasure."
And getting to do it on their own terms has made it that much sweeter. Currently working out details with a national esthetics school, she might be adding teaching to her list of passions in the very near future.
Now offering a limited half price discount to attract new customers, Isabelle confirms that size might not matter when it comes to art, but when it comes to business, it certainly does.
For more information about Sonia's Nail Studio and her special offers, visit www.soniasnailstudio.com
Lori Welbourne is an advertising consultant who lives and works in West Kelowna.
loriwelbourne@shaw.ca